SoCote®3D
The solution for extreme conditions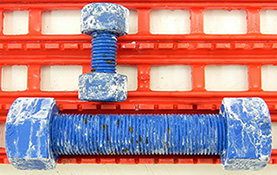 SoCote®3D is a 3-layer coating system that utilizes the first truly water based, low VOC, and easy-to-use topcoat from DuPont™. This industrial coating system was formulated to provide superior corrosion resistance, anti-galling properties, and dry-film lubrication under extreme environmental conditions. With good chemical resistance and an exceptional ability to withstand corrosion from oil and gas fluids, SoCote®3D is an excellent solution for off-shore and on-shore corrosion problems typically found in oil, gas, chemical, and water treatment industries.

Outstanding features and benefits
SoCote®3D's proprietary basecoat and adhesion coat are combined with a state-of-the-art DuPont™ fluoropolymer topcoat for a coating system that delivers outstanding features and benefits.  It offers excellent corrosion resistance of up to 3,000 Salt Spray Hours, and its inherently low coefficient of friction enables easy disassembly due to the reduction of required torque.  See our product data sheet for more information.
Southwestern Plating's SoCote®3D is a DuPont™ approved coating system for the SP11C specification.