History
Proud Past, Bright Future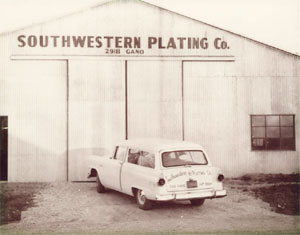 Southwestern Plating was established in 1948, but our roots were grounded years earlier in St. Louis, Missouri.  Our corporate heritage began prior to World War II when Ernest W. Ferguson was employed by Dazey Churn, makers of tin plated butter churns.  Ernest continued to hone his expertise with Acme Rustproofing until he was called to serve his country during WWII.  After returning from the war, Ernest was hired by Siegel-Robert of St. Louis as plant manager and chief operating officer.  He remained with Siegel-Robert until he and his wife Shirley had an opportunity to create their own company in Houston, Texas and thus Southwestern Plating was formed.
While Southwestern Plating began in a single 5000 square foot building inspired by one man's dream of self proprietorship, that dream has since blossomed into three generations of family ownership and a production facility close to 80,000 square feet.  Amidst all this change, the commitment to customer satisfaction and value-added service remains the core of Southwestern Plating.    
Today, we remain devoted to customer satisfaction and value-added service.  Our quality driven success is maintained through our corporate heritage, knowledge, and integrity.