Xylan®
A dry film lubricant, Xylan® is a complete line of fluoropolymer coatings created to solve specific problems for a wide spectrum of applications. These coatings are a composite material in which low coefficient lubricants are combined with heat resistant organic polymers.  As a result, Xylan coatings provide outstanding lubrication and controlled friction, wear resistance, heat resistance and chemical resistance as well as excellent adhesion properties. 
Virtually limitless benefits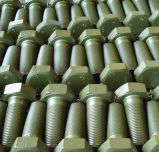 Xylan® coatings create a working surface, tailored to the specific application. A thin, protective film creates a barrier that reduces friction, minimizes wear, increases efficiency, reduces breakout torques, and lowers noise emissions.  As such, these protective coatings are the perfect solution for a wide range of industries.

Xylan® coatings are offered to our customers by Southwestern Plating in proud partnership with Whitford Corporation.  Southwestern Plating is a Whitford Approved Coating applicator.