Southwestern Plating Launches New Brand Refresh
December 02, 2013 at 11:37 AM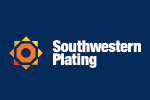 To better reflect its position in the marketplace today, Southwestern Plating is proud to announce the launch of its all-new web site and company logo. The newly redesigned online presence is a dynamic interpretation of SWP as a leading metal finishing and industrial coatings company that also pays homage to 65 years of excellence and customer support.
The new easy-to-navigate website includes an array of functional and visually attractive features such as up-to-date news, site-wide search capabilities, photography that highlights the company's focus on customers, industries served and products, plus much more.
New logo, New Look
The new logo created for the brand refresh is a result of a strategic and creative process that accurately illustrates our company's name, services and bright future as Southwestern Plating continues to serve manufacturers in diverse industries across North America and around the globe. 
The attractive new logo combines a stylized image of the sun, with elements of a compass highlighted in red to point to the southwest. The shape of a nut was also used for the center to symbolize the many offerings of the company.
 For more information about Southwestern Plating and its products visit www.swplating.com
About Southwestern Plating:
Southwestern Plating was established in 1948, but our roots were grounded years earlier in St. Louis, Missouri.  Our corporate heritage began prior to World War II when Ernest W. Ferguson was employed by Dazey Churn, makers of tin plated butter churns.  Ernest continued to hone his expertise with Acme Rustproofing until he was called to serve his country during WWII.  After returning from the war, Ernest was hired by Siegel-Robert of St. Louis as plant manager and chief operating officer.  He remained with Siegel-Robert until he and his wife Shirley had an opportunity to create their own company in Houston, Texas and thus Southwestern Plating was formed.
Tags: